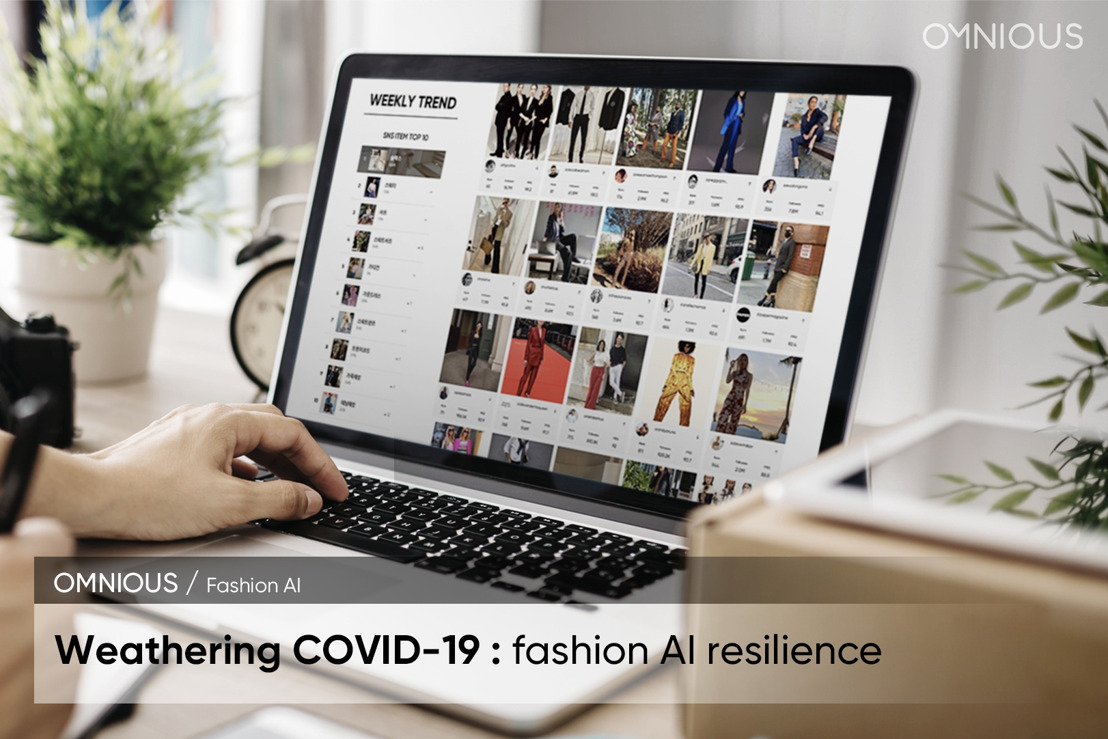 [Weathering COVID 19] How to conveniently view fashion trends via AI
"Free SNS fashion trend analysis service until 6/30"
As of March 2020, the novel coronavirus (COVID-19) has spread across the world causing a chain of ripple effects in our daily lives. The pandemic has significantly reduced the number of people on the streets, where wearing surgical face masks outdoors has now become a necessity for survival. Quarantines, to curb the spread of the virus, has pushed all unessential businesses to transition their workforce to work remotely from home.
1. Mask, infused into fashion.
Fashion trends have also been influenced by Coronavirus. Face masks have become a staple fashion accessory item by influencers on Instagram. Even if it covers half of their faces, they coordinate and style unique masks to complete their respective fashion look.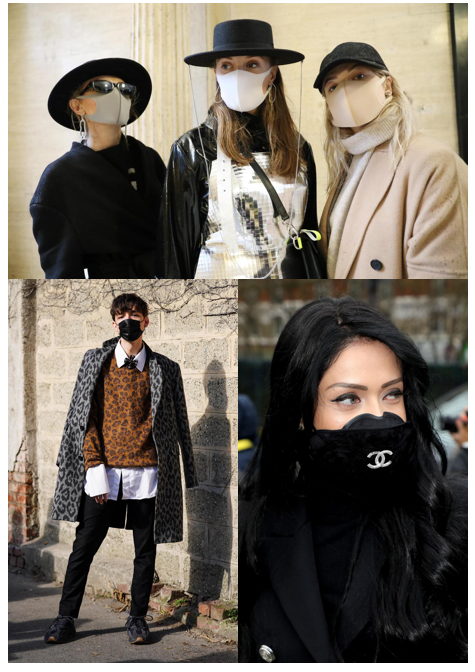 ​ (Source: GettyImage, Influencers wore masks at fashion weeks in Paris & London)
"If you have to wear a mask, why not pull it off with style?" seems to be the message apparent from fashion influencers on Instagram. Nonetheless, it seems to be a dismal reality we are living in today having to wear a surgical mask everywhere nowadays.
2. Online x Mobile commerce sales expansion
With increased quarantine restrictions and social distance measures, the commerce market has changed immensely. Offline shopping demand has plummeted while online shopping demand has skyrocketed. While this may be a temporary effect due to the epidemic, many experts predict that consumers who have experienced the ease of online shopping will continue to increase their share of wallet on online purchase.
Coronavirus Fears May Drive U.S. E-Commerce Sales Beyond 2020 Projections—And Ultimately Change How People Shop In The Future (Source: Forbes)
However, this seems to be not all but great news. Many offline-based fashion industry workers have already drastically suffered from Coronavirus, and only a handful of resilient companies are able to withstand the stagnant consumer sentiment across society.
3. Omnious supports our fashion industry
Community outreach for Coronavirus victims has become a global societal movement nowadays. Celebrities donated large amounts of financial aid, landlords reduced rent and postponed collection, and large companies from around the world such as Samsung, Huawei, and Gucci have donated hundreds of thousands of facial masks.
In order to share the burden of the fashion industry facing the crisis, Omnious decided to provide OMNIOUS STUDIO service free of charge to fashion retailers, e-commerce, and fashion businesses.
Omnious Studio objectively and quantitatively analyzes trends through fashion-related feeds from 30,000 fashion influencers on SNS. You can also view product catalogs of over 3,000 brands at a glance, so you can easily find out current market trends without having to go outside.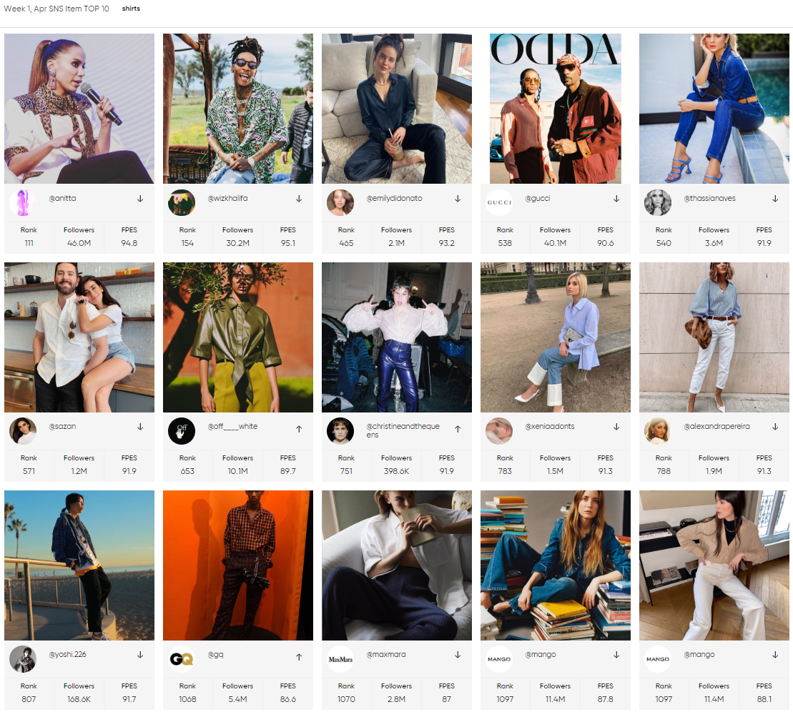 ​ (You can get trend insights from influencers' style looks)
You can also extract 13 categories of fashion attributes by uploading images to Omnious Studio. These properties are used as search keywords when registering products in online shopping malls, making it easier for consumers to search for your products. Probably the best product in the online market is an easily 'searchable' product. Even if a offline product is great enough, it is completely useless if it cannot be searched by consumers on the web.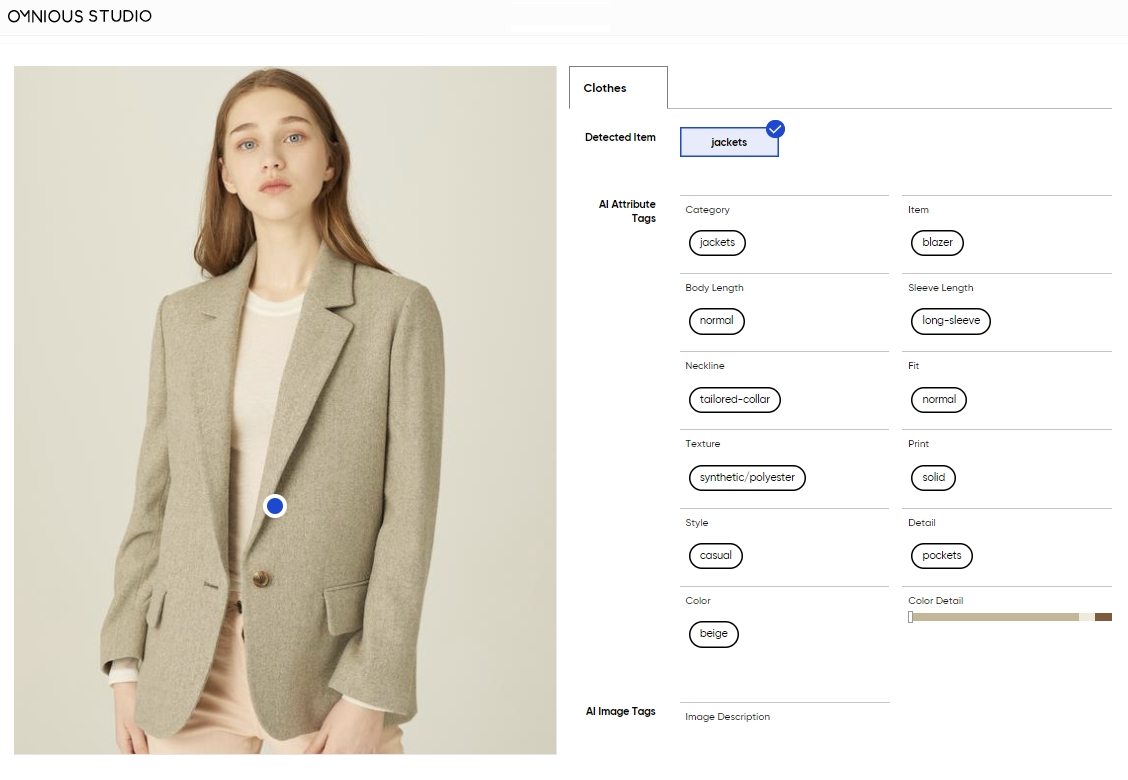 (Tagging results analyzed by Omnious AI, Actual view)
We at Omnious hope that our Omnious Studio will offer viable solutions to those stakeholders who are facing challenges in identifying current fashion market trends and difficulty exposing their products effectively to online malls.
* Subscribe OMNIOUS STUDIO for free!
​(Application deadline : due 4/30, period of use : until 6/30)

​[Want to know more about product tagging? - Click here!]
* Closing Statement: Looking forward to the 'V-curve rebound growth' for the fashion industry.
Experts predict that the Coronavirus pandemic will end one day, and the current stagnation will be followed by a speedy economic recovery after Coronavirus passes. In an interview with CNBC on the 25th, former US Fed Chairman Ben Bernanke said that Coronavirus resembles effects such as a natural disaster and expects the real economy to soar after a steep recession. In addition, China's domestic market which was the first swept by Coronavirus is experiencing an unprecedented rise in sales as suppressed consumption exploded.
The epidemic will slowly enter a recovery phase over time, but it will still take months to completely disappear. Meanwhile, those who have newly experienced the simplicity of online shopping experience will increasingly increase their share of online and mobile purchases.
Many companies may now be considering making significant changes to their business strategy with the current Coronavirus economic shock. If online sales continue to accelerate and businesses shift their strategy more towards online, fashion AI will unlock unlimited growth potential.
(Continues on the second episode)
# Corona19, #COVID-19, #Coronavirus, #Fashion, #AI, #Omnious, #OMNIOUS, #Mask, #Shopping, #Trend, #Instagram